Moving Condensing Units, A.H.U's, Display Cabinets & other HVACR Equipment can be a nightmare...
So, we'd like to introduce you to
the amazing Forearm Forklift® System
The Forearm Forklift® uses simple mechanical advantage to enable average strength people to easily move heavy objects (up to 600 lbs / 270kg). The straps allow an object to be lifted using little effort, keeping the centre of gravity low for improved stability, and keeps the hands free for control. The Forearm Forklift® does this with it's simple, adjustable and strong design.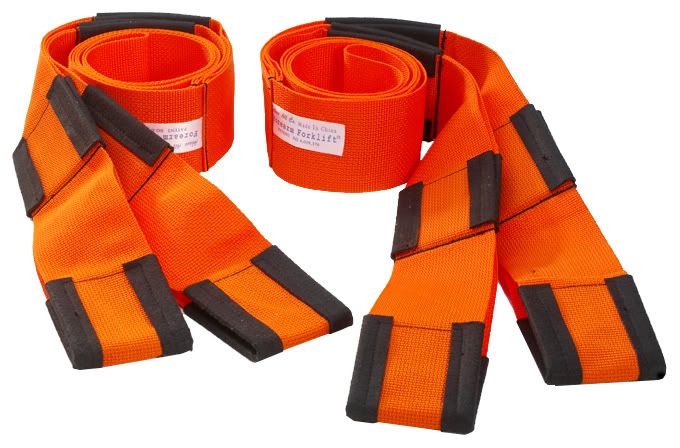 It's no wonder the Forearm Forklift® was awarded the "Best New Product of the Year" "1999" by the "Industrial Equipment News" in the USA.

Easy to use and easy to store, the straps fold up and can be carried in your back pocket or tool box. Whether you are a professional remover, builder or installer, or just want to move your furniture and appliances to redecorate or rearrange your home, the patented Forearm Forklift® is a must.

The Forearm Forklift® is a GIANT leap forward in the moving of awkward or heavy objects. They allow you to position your back in the proper lifting position, thus reducing lumbar strain, and at the same time free your hands to manoeuvre the object under full control.
The Forearm Forklift® is an indispensable tool for the HVACR Professional, in fact if you have tried to lift and move heavy or awkward equipment, you will immediately recognise the benefits:
Eliminates strain on lumbar and spine, reducing the risk of injury

Easy to use and encourages correct lifting techniques

Easy on your hands - no need to worry about hitting your fingers on the door frame

Low centre of gravity, allows you to move objects just off the floor for better stability

Adjustable to 48 inches (1200mm) so you can move large or small objects at a height that suits you

X-Crossing straps makes it easy to move awkward shaped objects without slipping

Easy to manoeuvre objects

Comfortable to use

Easy to store, keep a pair in your tool box and one at home or in the office
Great for Removals and re-location of equipment, Appliance Deliveries,
Air Conditioning Installers, Catering Equipment Installers, Shop Fitters etc.
In fact, anybody who routinely moves heavy items around.

Keep your Staff safe and free from injury by ordering a pair today.
ONLY £17.50 +VAT + carriage
We now ship worldwide - for delivery outside of the U.K. please contact before ordering for current prices +44 (0)845 052 3711 or email